Each Scholarship is a Story Of Triumph, Discovery, and Empowerment
At the heart of the First Generation Scholarship Program are the dreams of first generation students who aspire to reap the benefits of an FIU degree. We encourage you to hear firsthand from FIU students about the impact of the First Generation Scholarship Program:
Joel Cedano, Senior, College of Business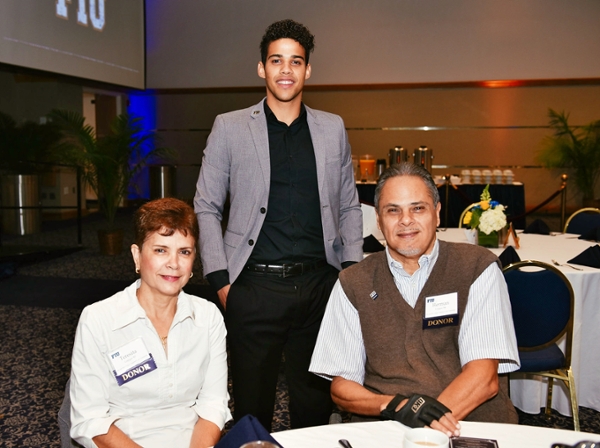 Joel Cedano is a senior studying management information systems. In addition to taking classes at the College of Business, Joel serves as president of FIU's chapter of the Association for Information Systems and works for the Miami-based startup company Addigy.
But balancing his work, school and home-life has not always been easy for Joel. His father's kidneys are failing, and he must help support his family in their time of need. Earning the Mr. and Mrs. Cajigas Empower a Life Scholarship has given Joel more flexibility and the financial stability to be able to focus on his studies. He will graduate with a full-time job working for Addigy in Fall 2018.
"[This scholarship] has brought financial relief to me and my family when we needed it the most," Joel said. "Going to school and working has been hard. Sometimes it's easy to feel that life is unfair and good things only happen to the lucky. But due to the generosity of Mr. and Mrs. Cajigas, and all the donors who give scholarships to students, I know there is great goodness in the world."
Justyce Pinkney, Senior, School of Integrated Science and Humanity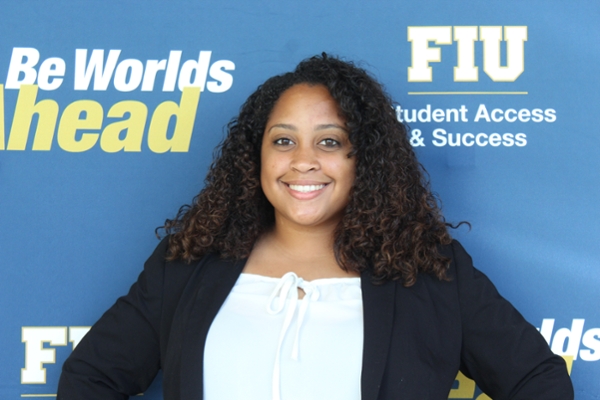 Senior psychology major Justyce Pinkney plans to earn a Ph.D. To get there, she has spent the last two summers conducting research as an undergraduate through the Ronald E. McNair Post-Baccalaureate Achievement Program and working as an after-school counselor for The Barnyard, a nonprofit organization in Miami, that serves low-income children and their parents.
But a long history of family struggles led Justyce to make the difficult decision to move out of the home she grew up in, so she could focus on her studies. Earning the Milam Family First Generation Scholarship has helped her keep a roof over her head while she pursues her dream of not only being the first in her family to earn a bachelor's degree, but the first to pursue graduate school, as well.
"My previous future goals never really included graduate school. The only concern I had was making it through college just so my parents could say, 'Through all the trials and tribulations, we had one child make it,'" Justyce said. "Now, my mind has changed quite a bit."
She hopes to one day run a facility that serves as a haven for at-risk youth, providing them food, education, mentorship and resources necessary to help them set a new course in life, as she has done herself.
"I would like to tell the donors thank you," Justyce said, "not only for this opportunity, but for standing up and donating funds to the first-generation students striving for success."